Saturday, December 02, 2006
notes from el sendero gringo: ecuador -> arequipa
the north coast
Crossing the border into Peru was the most stressful happening so far. Shifty 'guides', agressive moneychangers, and lying taxi drivers made the trip from Cuenca to Tumbes a hassle. But since then, Peru has offered mostly smooth sailing. The northern cities of Chiclayo and Trujillo are surrounded by desert, and pre-Incan ruins. For most of the journey, the ground was beige, but this was broken at intervals by patches of green rice paddies with knee deep water. The amount of irrigation involved in this project must be pretty intense. The craziest thing about the pre-Inca ruins (evidence of large scale civilizations and cities) is that the region has been producing food for centuries, and its not just modern technology that has rendered it fertile. The 2 sites I visited near Chiclayo have suffered a lot from the passing time and most closely resemble giant eroding termite hills. Archeaologists did find an impressive burial suit at one tomb, (of a high priest, soldier called Senor Sipan)...Huaca de la Luna (outside Trujillo - itself more impressive) was much better preserved, partly because of the custom of building one temple on top of the old one every 100 years, so the murals on the oldest temples have been protected by new walls. The temple was ransaked by Spaniards looking for gold, and so there is a huge cut through the middle of it.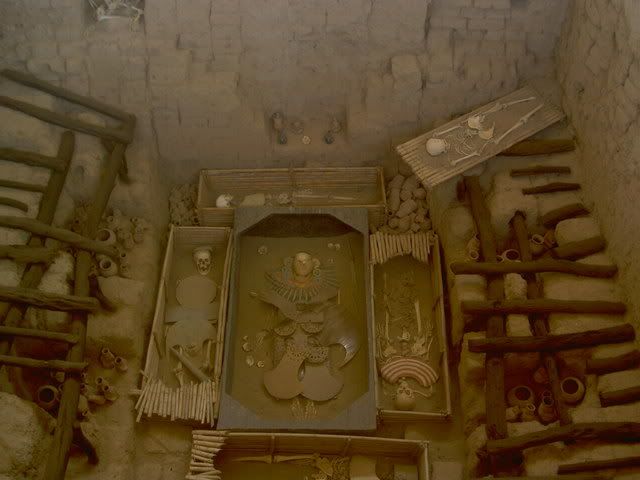 Senor Sipan's tomb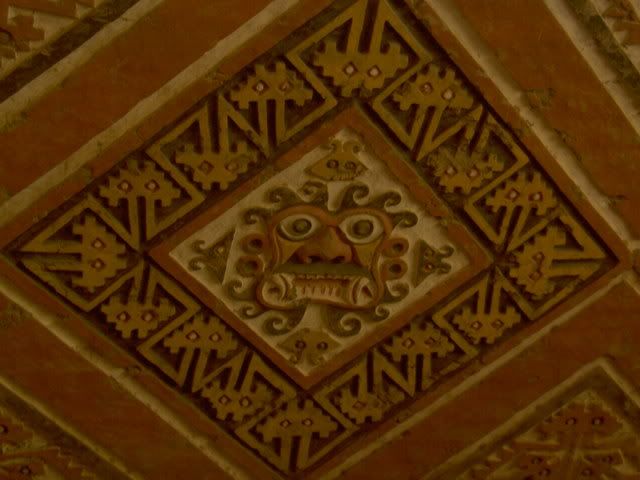 Mural at Huaca de la Luna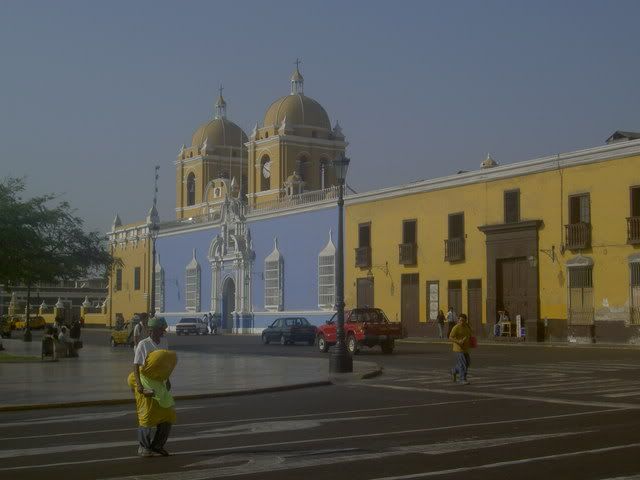 Trujillo Plaza de Armas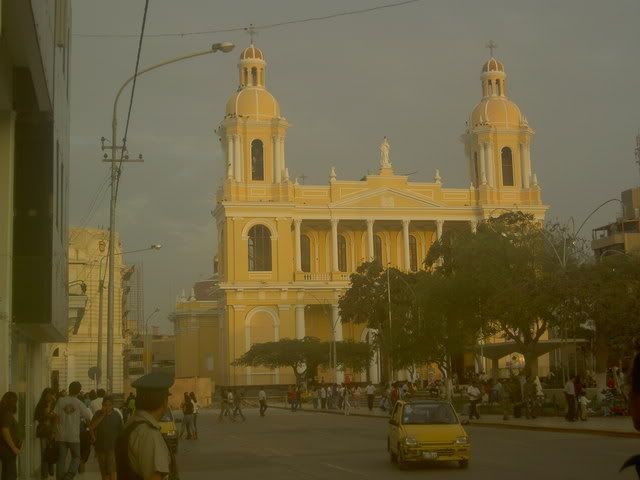 Chiclayo Plaza de Armas
la cordilera blanca
The town of Huaraz sits in a glacial valley just below Peru's most spectacular set of mountains: the Cordilera Blanca, a range of snow capped peaks shooting up to 6000+meters, including Peru's highest peak (the 2nd tallest in South America). At one end of the valley lies the (rapidly shrinking) glacier Pastoruri. The road up from Huaraz to the glacier passes through grasslands in the bottom of the valley inhabited by sheep, alpacas, and a wierd flower species that waits 35 years to flower then grows up 10m tall (sorry for the all metric, its whats they use here, and I cant convert). From the top of glacier (a slippery hike up) there were views of snowy mountains in all directions, but the afternoon clouds and rain were closing in, so I beat a hasty retreat. The next day I rented a bike and headed uphill. A very pleasant three hour ride up towards the cordilera blanca, through small rocky fields, indigenous communities, eucaliptus forests and eventually through high altitude pastures (4100m) ended abruptly when a dog ran out of a field barking, chasing, and eventually, biting. Nothing serious said the ladies at the clinic in Huaraz, not deep enough to give me rabies at least...deep enough to make me lose inhibitions about throwing rocks at dogs though. From the base of the mountians (where they start getting seriously steep) there was a long ride back down along a little gravel road with plenty of hairpins back to Huaraz. Before taking the night bus to Lima the next day, I tried something new: rock climbing. The rocky outcroppings around Huaraz offer good climbs for all levels, and I tried my luck on the easiest. Its a difficult sport, especially for the muscles in my arms that I dont think I'd ever used before...but it felt pretty good getting up a near vertical rock face...the instructor embarassed everyone afterwards by practically running up the climb to gather the chords and equipment.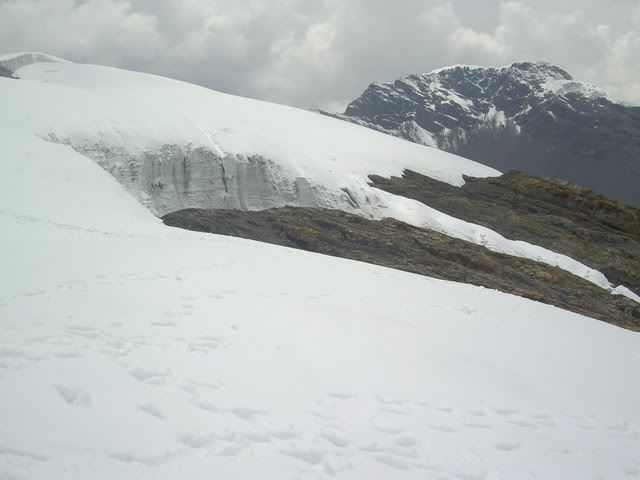 Pastoruri glacier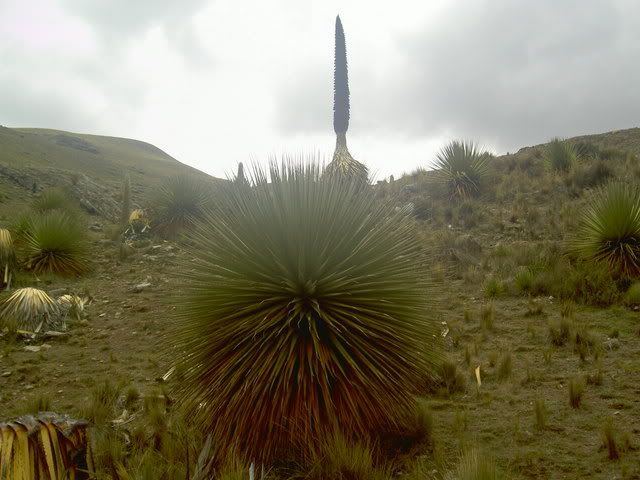 wierd flower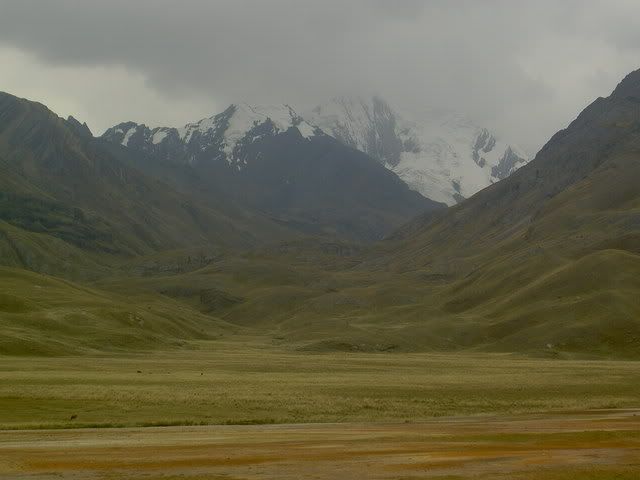 grasslands in the valley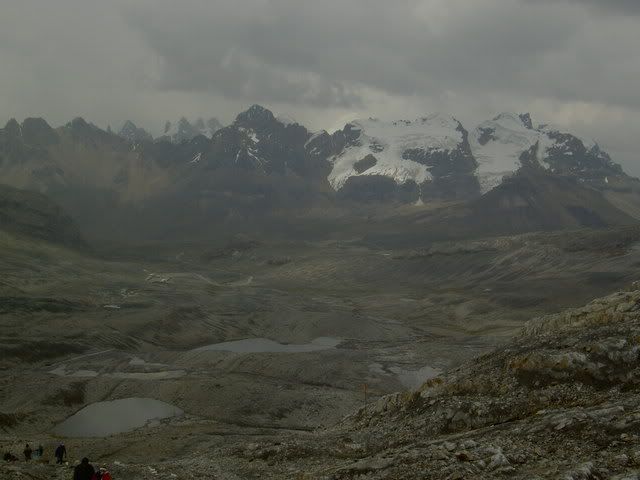 view from the glacier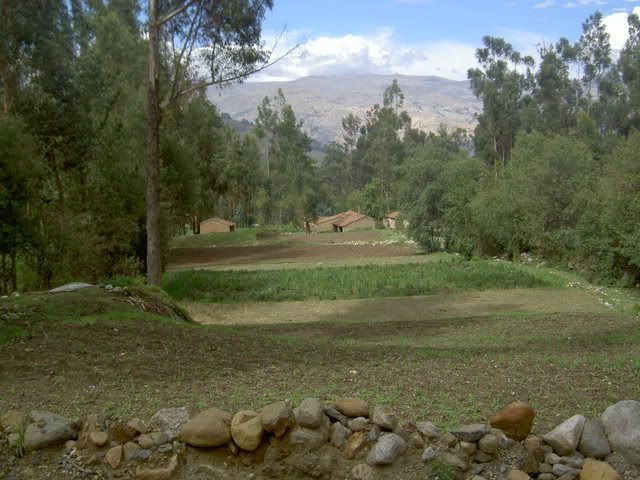 small farms from my bike ride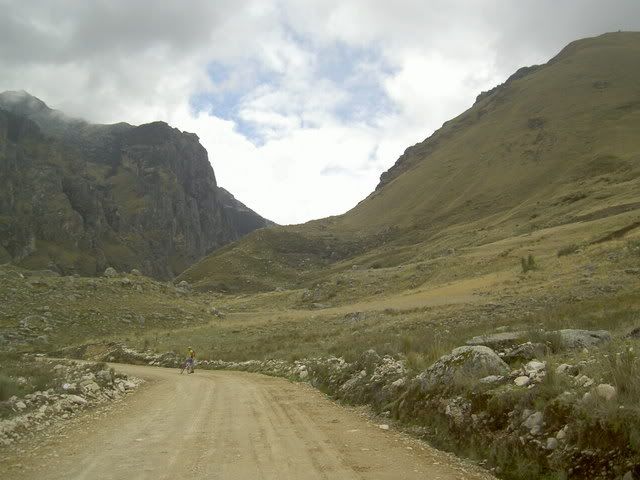 this is where i was when the dog bit...the gap in the mountains leads to a 12km trail to the cordilera proper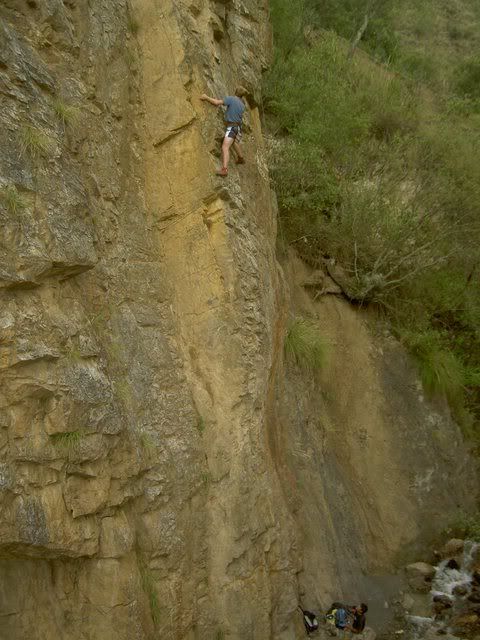 rock climbing
Lima
Lima gets a bad reputation, especially in Quito, but its mostly unfounded I think. Perhaps Quitenos are a tad jealous of the larger, hipper, oceanside city, and so spread stories of its out of control crime to keep people from visiting it, but besides from being pretty hectic, and having a bit more street hassle, Lima didn't feel vastly different from any other big South American city I've been to so far (and it was so much better than Guayaquil that to compare them would be silly). I only spent a day and half there, but it left me with a good taste in my mouth...there wasnt a whole lot 'to do' but it (especially the young lively miraflores neighborhood) like a very livable place with a lot 'going on'. The colonial center was pretty extensive, about 10 blocks by 5 blocks and had the usual cathedral, plaza de armas, and miriad churches...Miraflores is where Lima really sets itself apart. Perched on the cliffs overlooking the Pacific Ocean, this neighborhood, a 30 minute bus trip from the center, is home to most of Lima's 'high culture' theatres, galleries, movies etc...the buildings arent nice like in the center, but the street life is very energentic, with cafes sprawling practically all the way across the sidewalks into the street, parks, and quiter residential streets tucked in behind. pretty good.
the south coast
South of Lima the desert continues. For hours. I got off the bus at the small oasis/resort town of Huacachina and spent the night. I got up early before the sun heated up the giant sand dunes flanking the town and tried my hand at sandboarding. Unlike a snowboard, a sandboard doesnt turn. Unlike snow, sand is hard. So after 1 run, I swtiched to sandsledding, much better. Deserts are crazy looking, especially with huge sand dunes. Next stop on the whirlwind tour of the south coast was Nasca home of the Nasca Lines...ancient doodles in the desert, (explained in my last post)...after a fly over the lines in a 4 seater plane (shotgun!) I spent the afternoon in Nasca's main plaza where most of Nasca seemed to be hanging out too. The town's planetarium had a lecture on explaining the lines (unconvincing) and after we got to look at the moon through a telescope. Sometimes when I say outloud or write what I've been doing in the last few weeks it sounds totally ridiculous...this is certainly an example.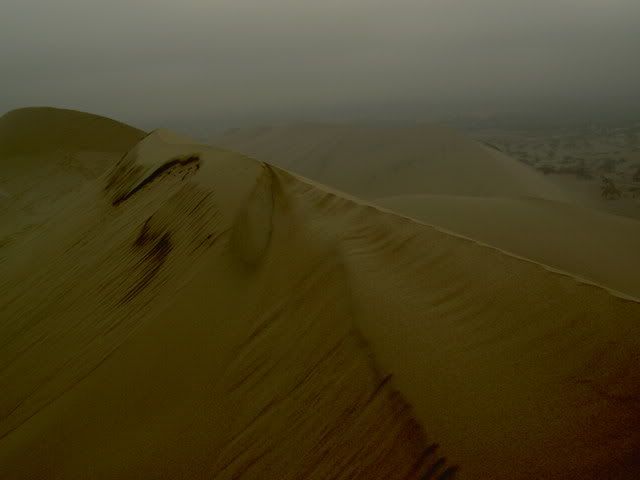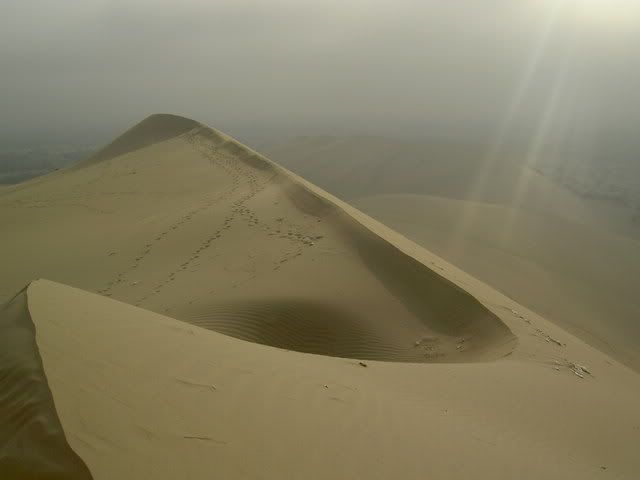 dunes
oasis
Nasca Lines hummingbird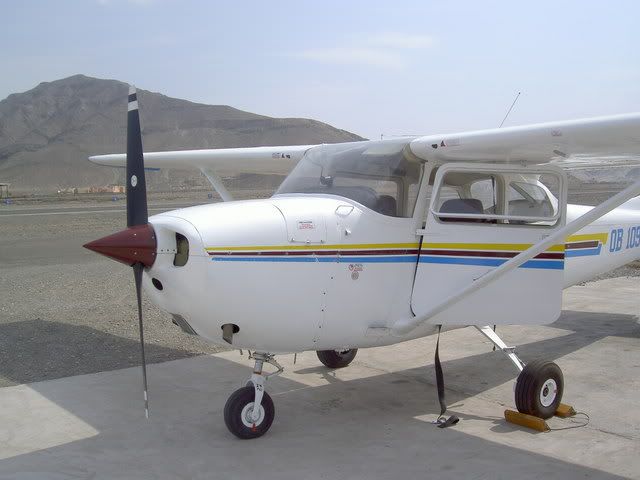 plane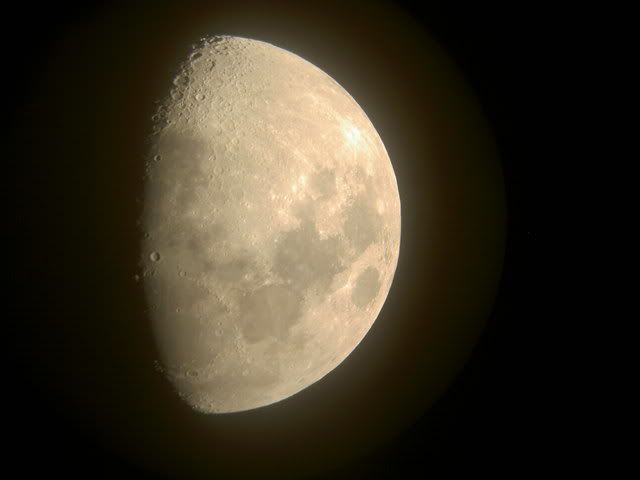 the moon
arequipa and the colca canyon
The Colca Canyon is the world's deepest, or so they say in these parts. Its pretty spectacular either way. Yesterday I caught the local bus at 6am to the lookout point Cruz del Condor where you're supposed to be able to see condors floating on the morning thermals coming out of the canyon. I saw one condor, and it cruized out of there pretty quick, whatever. After I walked along the canyon (its not a vertical drop like the grand canyon, its like 2 mountain ranges who're just next to each other, and the bottom pars of the mountains is the steepest, with a small plain about 2 thirds of the way up) to the village of Cabanaconde...it was really clear and sun was super intense, but it wasnt too hot...the walk was along the road for about 5 miles (3 cars passed total) and then along a small trail used as shortcut by herders from the village. I caught the bus back to Chivay (where i was staying) and nearly fell asleep over my dinner...the last few days had finally caught up, so I got an early night's sleep and slept in (until 8!!). The bus back to Arequipa (Peru's 2nd biggest city) passed through more desert and grassland where the South American Camel makes its home. The jagged rocky mountains on both sides made for a pretty trip, even if the equally rocky road made it a bouncy one. Arequipa has some of the nicest colonial style architecture in Peru and perhaps its most exquisite exemplar is the Santa Caralina Convent founded in the 16th century and going strong today. Its like a little city within the city, walled in in an entire city blocks, it has its own streets, courtyards, and churches...the walls are all painted bright red and blue...not a bad place to be a nun i'd say.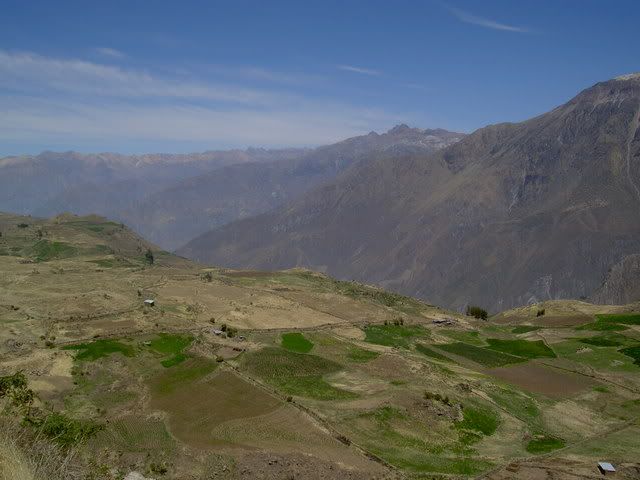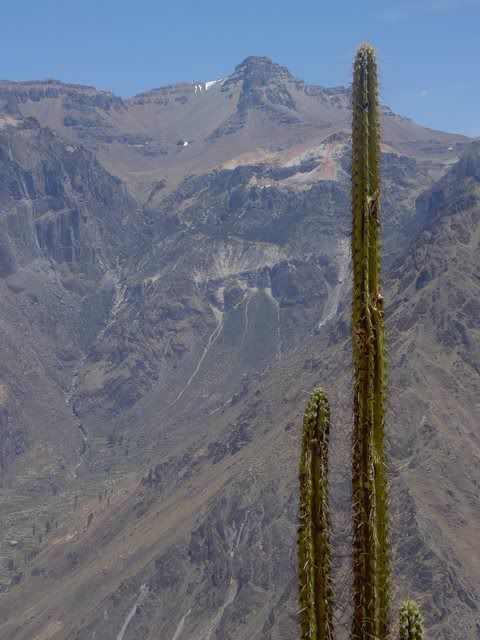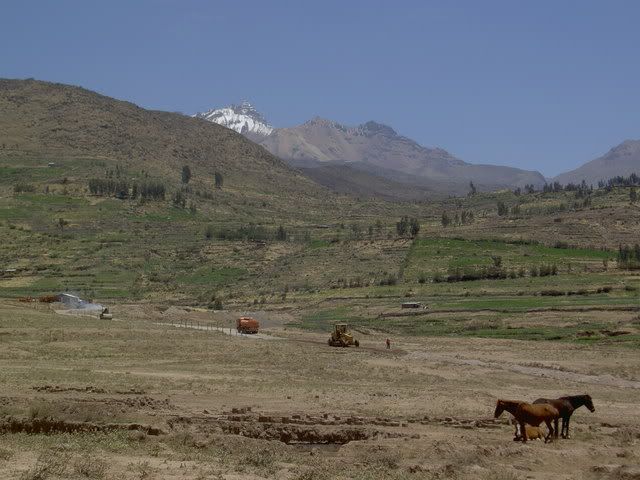 Colca Canyon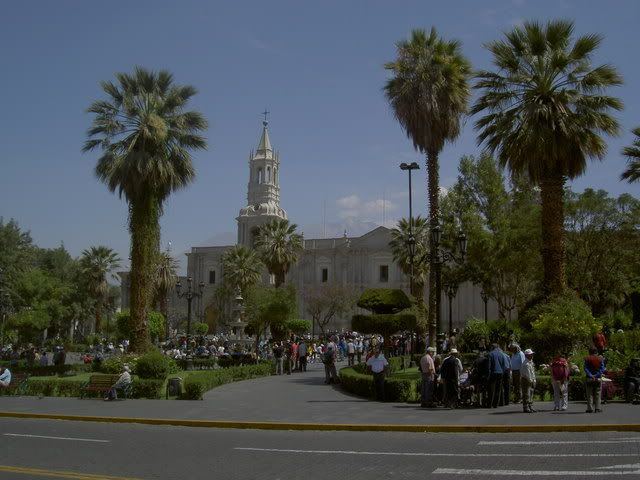 Arequipa Plaza de Armas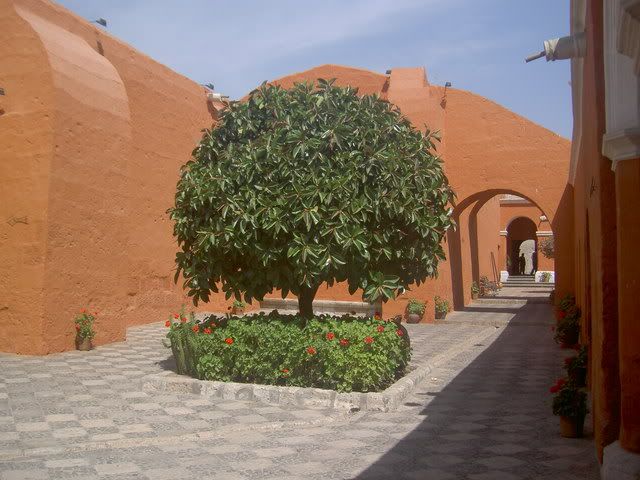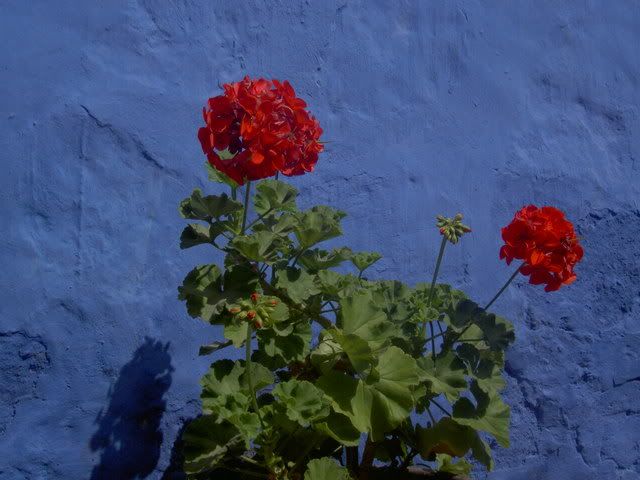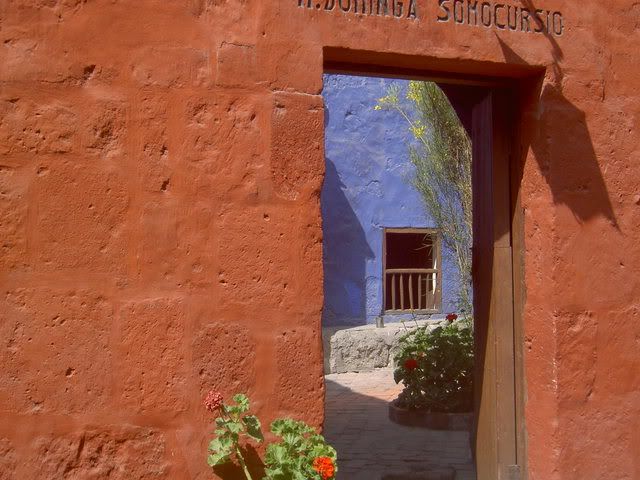 Santa Catalina Convent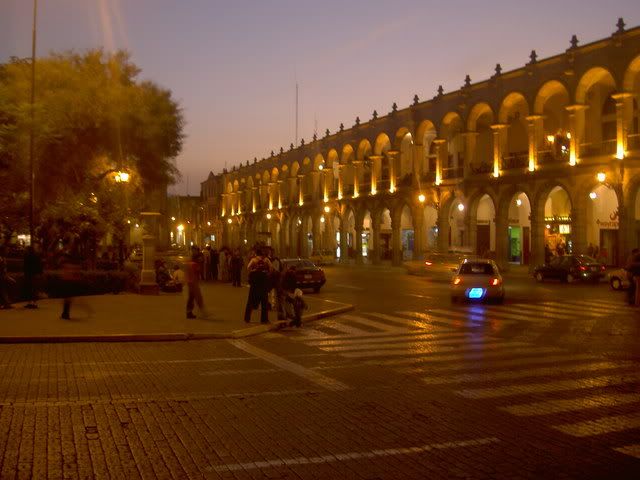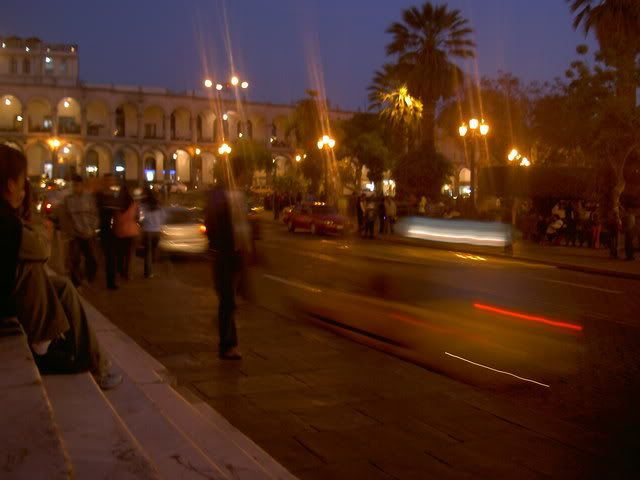 Arequipa - Saturday Night
Labels: arequipa, chiclayo, colca canyon, condors, cordilera blanca, huaca de la luna, huacachina, huaraz, lima, nasca, pastoruri, trujillo, tumbes
Comments:
Jacob, it's Jackie Mancini!
I saw you online the other day and tried to IM you but it didn't work because you weren't really there or something!
I got your postcard and loved it, is there an address where I can write you back? Are you standing still at all in your crazy adventures?
I am reading your blog and psyched about it, albeit jealous as all hell. Miss you a lot!
Email me: jackiemancini at gmail dot com!
Post a Comment
<< Home