Tuesday, December 19, 2006
it´s all downhill from here
At 4000m above sea level, Potosí is the world´s highest city, but its real claim to fame, and raison d´etre, is the little hill called El Cerro Rico that sits just above the town. When the Spanish stumbled across a Quechua mining operation on the hill extracting huge amounts of silver they set up camp and turned Potosí, a middle of nowhere town too high for anything to grow, into the largest and most important city in South America. In its prime, it was bigger than London, Paris, or Madrid; producing 50% of the world´s silver it was the classic boomtown. The wealth came at a cost: about 6 million Indians died in the mines during the colonial area. Forced to work 48 hour shifts the miners´ life expectancy was the mid 30s. Coca leaves, initially outlawed by the church were relegalized when it was realized that miners didn´t need food or breaks during their marathon shifts if they were allowed to chew the leaves. A hybrid set of beliefs emerged in the mines, combining Quechua mythology and Catholicism; the two primary figures in this belief system are the Patchamama (mother earth) and El Tio (the devil). Miners make offerings of alchol (96proof sugarcane liquor is the standard), coca leaves, and cigarettes to the deities. While Patchamama is rarely personified, the entrance to each mine contains a statue of El Tio, complete with horns, cigarette in mouth, and huge erect penis. (for a fascinating analysis of all this see the second half of Michael Taussig´s
The Devil and Commodity Fetishism in South America
). Today the mountain is owned by the Bolvian State, although the state mine closed in the 80s. 37 Miners´ collectives work in the mountain, each rents a mine from the government and has the rights to anything it extracts, the profits from which is shared out between all the miners of the collective. Although the ownership is a bit more progressive than it was under the spanish and later the state, working conditions are still pretty medieval. Miners´ are responsible for their own safety, and the philosphy is dont take risks otherwise the mine will collapse. There is no formal training, new miners (aged 14-16) are taken under the wing of older ones who supervise them and show them the ropes. Work is specialized, so that one miner will spend an entire day (or even and entire working life) performing the same task. Helath precautions are limited to helmets and bandanas worn over the mouth, the life expectancy today is 55, retirement starts at 65. Silver is no longer the main mineral extracted, tin and zinc are more important, although there is still some silver production going on. The tour I took was run by one of the collectives, and the guides were exminers, money from tourism is helping to support the collectives and the community health center that sees a lot of action. What the miners must have thought seeing a bunch of gringos walking around a place they´d probably rather never go in is beyond me.
El Cerro Rico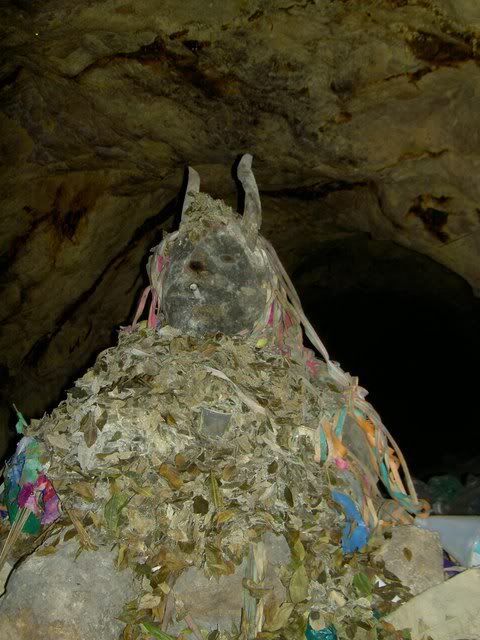 El Tio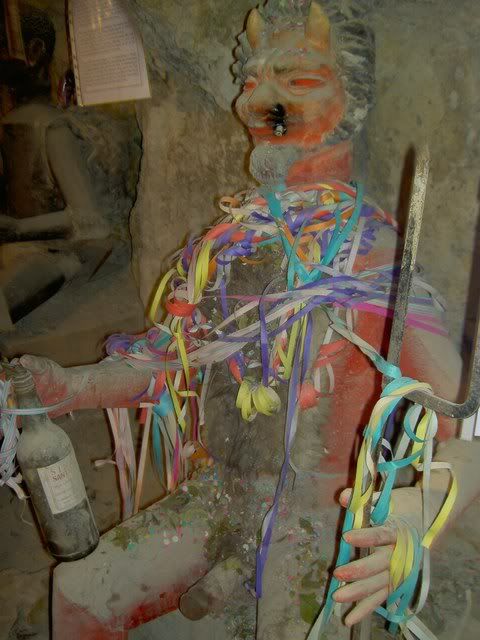 El Tio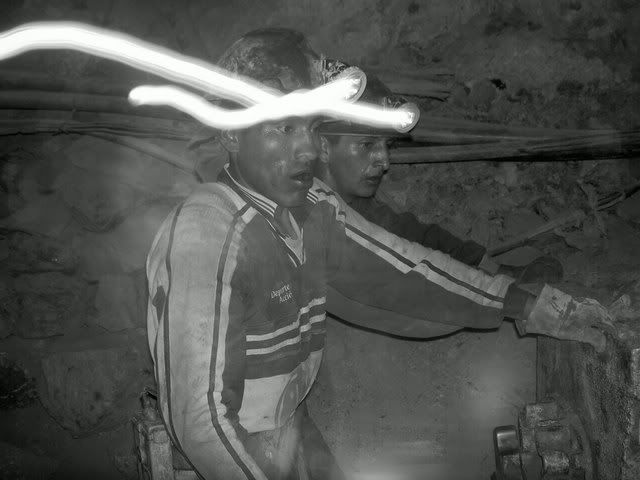 Mining
On a lighter Note: Daddy Yankee vs. The Poo Machine
Last night I had the pleasure of taking the night bus from Potosí to Uyuni. Crammed in the back corner (I waited too long to buy my ticket) for the ride along the bouncy rocky road I was thrilled to discover the driver in front in the baby in the back had arranged a decibel competition. Although Daddy Yankee had the edge in sheer volume, the baby´s edge in shrillness, piercingness, and startlingness won him the competition in the end. I realize that in the grand scheme of crimes against humanity, being a baby ought to be fairly forgivable, but last night that was a hard thought to entertain. ¡ME GUSTA LA GASOLINA! ¡DAME MAS GASOLINA!
Labels: daddy yankee, el tio, mining, potosi