Friday, October 06, 2006
todo va bien
well, quito.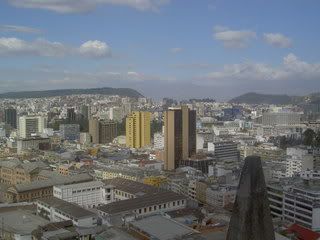 surrounded by the andes it sprawls north to south for ever and ever. but some neighborhoods are prettier than others...claro.




Guapulo is among the nicest. on the backside of one of the mountains, this is the "bohemian" neighborhood. because it´s so steep, no houses are actually next to each other, and people have gone to extreme lengths to build houses that reject the hill. but the inequality in the city is as evident here as in most other neighborhoods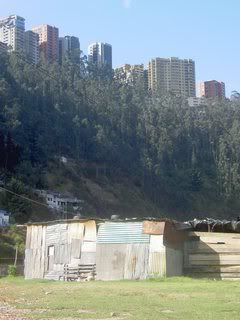 the skyscrapers in the background are apartments in one of Quito´s swankiest neighborhoods...houses like the one in the foreground are squeezed inbetween. the neighborhood i live in is not the prettiest, but there is a lot of life in streets...garages are turned into convenience stores, cafes, tailors, and shops turning what was originally planned as a residencial area into a mixed use one with storefronts on the streets and apartements in the buildings behind. The neighborhood is in the center of the valley, and if you walk up the hills in either direction you find universities...la universidad central (the only public university in quito) on one side, and the universidad catolica on the other. the result is a fairly lively neighborhood inbetween.

way in the north of the city is the stadium where Liga de Quito play their home games.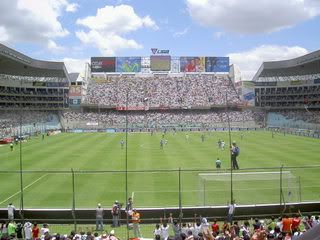 Last sunday they played out a 3-3 tie with their rivals Barcelona de Guayquil...the stadium was full and everyone was singing and jumping for the whole game...guyaquil fans in the tier above ours took things pretty seriously, throwing dirty water and peices of shit down onthe the quito fans below when Liga scored the equalizer...

im hesitant to say it but maybe somethings have universal significance...

quito, ecuador--->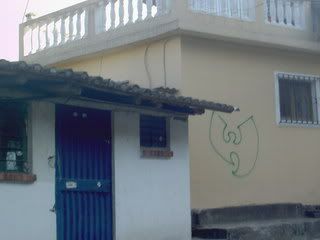 timbuktu, mali--->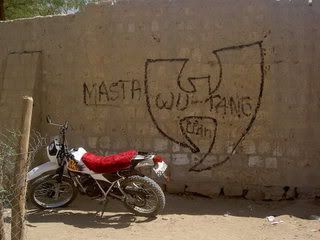 besides wu-tang, the graffiti is mainly political, and mostly anarchist, with lots of references ot the upcoming elections and the TLC (free trade ageement)..."don´t vote, disobey" is a popular tag as is "la policia nacional, la policia criminal".
Comments:
Qué interesante! My gusta el enlace entre Mali y Ecaudor, Quien lo habîa creido? Globalizaciôn loca, no?
disfrute tu viaje y mucha suerte.
Post a Comment
<< Home